I have stooped to an all time technology low in my books. I realize a ton of people take their laptop to bed with them, but I just find it so…whats the word I am looking for? Disconnected. Which is actually very ironic because my laptop MUST be connected at all times to have a battery life. I feel disconnected to the people I love and I just want to make the sacrifice that no computer should enter my bed. I am still working on getting my phone and tablet and ipod out of bed with me too..I know, I am so scandalous sleeping with so many gadgets. But then again, how would I read if I didn't have my tablet?
This has lead me down a different thought path: my bedtime routine is pretty fascinating. Not. But hey, I gotta write something in all this blank space (cue T.Swift).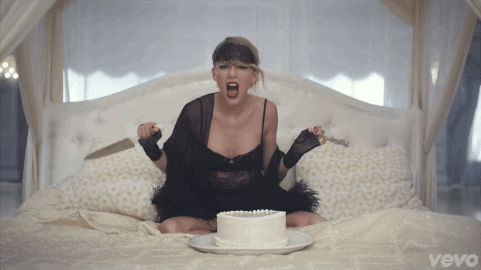 (I had to Google if that was really part of the music video (it is) and then I was captivated and had to watch the entire thing, which leads me to question: was that a Shelby Cobra she ruined? I think my heart just died a little.)
So bedtime routine:
No specific times. When I feel tired, I head to bed.
Well first I head to the bathroom, I have a bathroom within my room so I never have to leave my sanctuary. It is very lovely indeed. In the bathroom I usually go pee and wash my hands. Then take out my contacts and wash my face. First, I use Lush Herbalism, I use it for my oily skin and it has kaolin clay and grounded almonds to exfoliate and mop up oils. It does not dry out your skin in any way possible. It is simply the best.
After I rinse Herbalism off, I scrub my face with Coalface Cleanser also from Lush. This one has liquorice  root and powdered charcoal! It has little bits of charcoal standing out in the bar which seriously exfoliates the skin, just be careful and gentle with it!
**I just need to point out that I love Lush Cosmetics and do not work for them or get anything from mentioning them on my blog: that being said, I seriously recommend Lush 100%. It's a bit more money than what you see at a drugstore, but in life: you get what you pay for. And you pay for all natural ingredients and some are even vegan products! I love the Lush website because if you click on a product they are straightforward about the ingredients and if you like the ingredient a lot, say you like coconut oil in Coalface, you can click on it and it shows you a description and other Lush products with the ingredient in it also. A quick tip that I like to share: don't be intimidated by the prices on the website. If you walk into any Lush store (granted you are lucky enough to have one near you) they will measure out exactly how much you are willing to spend. If you want $4.22 of Coalface, they will measure it out for you. If you want 10.9 oz of Honey I Washed the Kids, they will cut you off that much! They don't exactly advertise that on their website, but trust me they do it! And I love this especially when I am trying something new!! Extra hint: they almost always give you a free sample of something popular! Especially if you buy a few things!! (okay, I am done selling Lush to you now).
Brush teeth: I use Crest 3D white just because it goes along with the Crest 3D white strips I use (but I do not use white strips after I brush my teeth, usually before bed time routine).
Remove all traces of eye make up not caught by my face washing, I use Maybelline eyeliner and Covergirl mascara (I almost always accidentally buy the waterproof because I am in a hurry, which is almost impossible to remove without removing several eyelashes…do eyelashes grow back?) and that stuff stays for life..okay, not really. But it stays for awhile unless you wash it off. I use eye remover wipes to take the nasty stuff off at the end of the day.
Adjust the heater: I have a large, industrial heater in my bathroom a) to make sure the pipes don't freeze & b) to make sure I don't freeze at night. 99% of the time I go to bed freezing and wake up at some point in the night to turn it off because it gets rather warm. I set it at 73 at all times and it just adjusts itself how it pleases (it has a mind of it's own, I swear). Sometimes it'll be at 82 and sometimes it'll be at 66. I guess it depends what kind of mood it is in that day. Silly heater.
After that I crawl into bed and set to work on my SimCity tablet game. I am obsessed. If I am still in the mood for gaming, I switch over to my phone and play My Talking Tom, a woman I worked with in HOH at Disney got me onto this game one of the last weeks I worked for Disney and I play it religiously. It's so dumb though! But hey, can't break the habit now. Then after Talking Tom, I play Fish Live (how original) it's basically like an Insaneaquarium but not nearly as good. Then if I'm still up for games, I play Jumping Finn Turbo, my boyfriend and I call it kick buttowski, because I thought that's what it was called, but that might be a different Cartoon Network show. But after many making-fun-ofs by judgmental people, I have learned the name of the show is called Adventure Time, I have never seen the show, but I am obsessed with the game thanks to Jared.
Usually after a few rounds of kick buttowski, I am ready to read. Currently, I am re-reading Fifty Shades of Grey (collective sigh) the books are way better than the first released movie. That is all I will say about that.
Depending how tired I am, I will ready for 10 minutes-2 hours. After I am too tired to read anymore I switch over to my Harry Potter audiobooks on my iPod. Now I have a separate iPod with all my audiobooks on one iPod and all my music on a separate iPod, but I have seemed to have misplaced my audiobook iPod, so I have to listen to the first Harry Potter on my music iPod. I don't know how it got on there, but by that happy mistake, it leaves me with at least one HP book if I forget/lose/misplace my audiobook iPod.
After I turn on HP, I usually go in order of books and fast forward to the part I remember before falling asleep. I turn on a sleep timer, usually for 30 minutes unless I am super tired and then I will turn it on at 15 minutes. And I am almost always asleep before the iPod turns off. It is such a lovely way to fall asleep and I have gotten such into a habit of listening to Harry Potter whilst falling asleep that I don't know why I haven't done it before. It is so soothing and relaxing almost like storms are to me.
And that is my bedtime routine from start to finish. Is there anything we do in common or something really crazy you do for your bedtime routine? Sound out to me in the comments!!